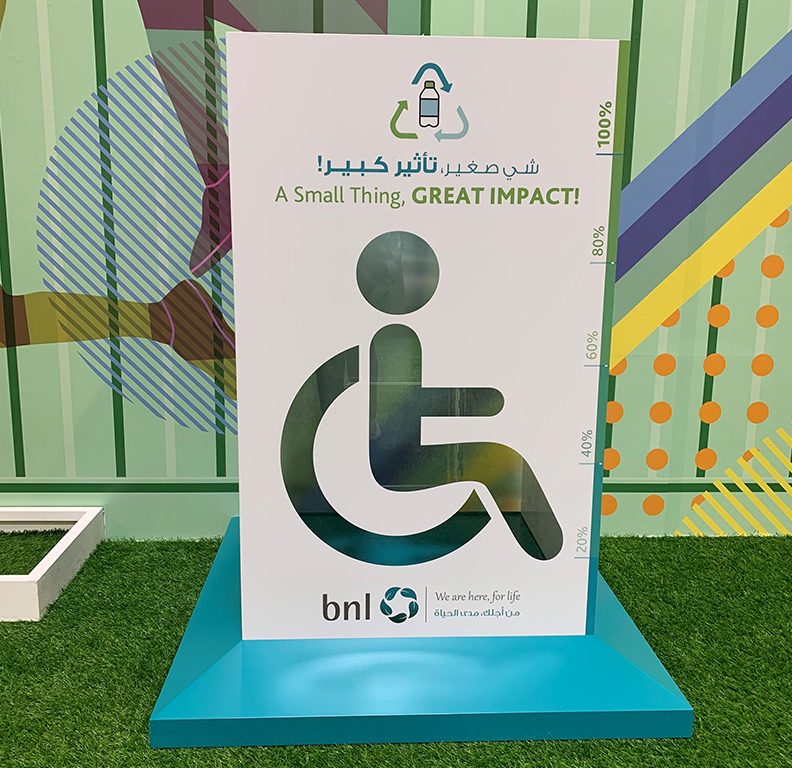 Manama: – Plastic bottle & bottle caps may look simple and unimportant objects that normally are consigned to the trash bin, but with a little creativity they can turn into wheelchairs and make life easier for people with disabilities.
Bahrain National Life Assurance (bnl) – recently launched an initiative that will assist in providing critical equipment for people with disabilities in the country. The company has designed customized boxes to collect recyclable plastic especially bottles and & caps which will be distributed to all bnl's client offices aiming to collect as much plastic as possible.
The bottle caps are donated towards an initiative that was launched in 2011 by the Bahrain Association for Parents and Friends of the Disabled. The association has been collecting plastic bottles, caps and jars, in addition to other recyclables, under the slogan 'don't throw it away…it can be used in some other way'. All proceeds are then used to purchase customised wheelchairs and other equipment for children with disabilities. With customised wheelchairs costing more than regular ones, the association only manages to buy a customised wheelchair after collecting around 12 to 15 tonnes of plastic.
Mrs. Enas Asiri, General Manager at bnl commented, saying: "We at bnl recognize our responsibility towards the community, the environment and people with special needs and disabilities. By extending our support to the Bahrain Association for Parents and Friends of the Disabled in collecting plastic on their behalf we are not only supporting the association initiative but we are also partnering with our clients to offer their staff the chance to give back to the community and be part of this noble project."
"This project contains a double objective: on one hand help to educate people on the importance of sorting and recycling trash from the source in order to preserve the environment, and on the other hand, to provide the Bahrain Association for Parents and Friends of the Disabled with wheelchairs" she added.
She also added; "This is one of the many initiatives planned for bnl this year & in the near future as we strive to create an echo friendly environment, provide the less fortunate with necessities, support people in living a healthy life and continuously work to make our beloved Bahrain a better place."